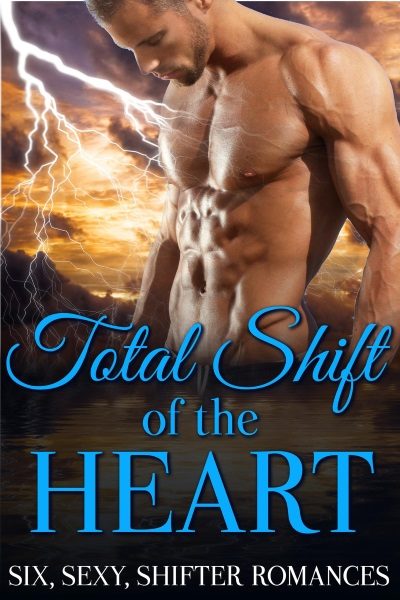 ****LIMITED EDITION BOXED SET****
***This limited edition collection is no longer available.***
Total Shift of the Heart is a limited edition boxed set from some of your favorite authors including me 🙂
Authors in this set are:
Harmony Raines
Kate Kent
Charlene Hartnady
Alisa Woods
Lola Kidd
Michele Bardsley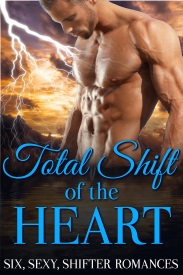 Total Shift of the Heart
A Bond To Bear by Harmony Raines
Billionaire Jared Sinclair has found his mate, but she doesn't know it yet. Why? Because he isn't convinced he wants a mate and all that goes with it. Yes, he wants to claim her, but children, and marriage, he's not sure that's the kind of man he is.
Although his bear disagrees.
Kelly is juggling two jobs to support her mom and brothers. With debts to pay, she can only fantasize about what it would be like to be with a man like Jared. Until he offers her half a million dollars for one weekend.
One weekend … easy, right?
But they soon discover neither of them wants to walk away … and this is a bond they will both have to bear. Forever.
Spring For Tiger – STANDALONE Paranormal Romance (Shifter Seasons) by Kate Kent
1 Hot Tiger Shifter Ready to Mate + 1 Curvy Woman Hoping for Love = Scorching Red-Hot Romance!
Curvy rich girl Janet Sayer is fed up with men who are after her for her bank account. So when her co-worker makes an offer to switch lifestyles she decides to take a chance. Things get heated when she meets hunky tiger shifter Zeke Marshall. But he values truth and honesty above all else and she has a lot of explaining to do! The two are crazy about each other but will Janet's secret keep them apart? Spring for Tiger is a BBW Paranormal Shapeshifter Romance. This is a standalone novella and the second story in the Shifter Seasons series. These paranormal romances can be read in any order.
One Night with a Shifter by Charlene Hartnady
It's shifter night. The one night a month when the shifters are in town. Their goal is to hook up with single, human woman, being it that shifter females are in such short supply. Their destination, The Dark Horse.
Only this time, it's a bit different for Jasper. It's his turn to find his mate. He's pretty sure he knows exactly who she is. He prays that Tracy-lea is still single and that she'll give him the time of day. This particular female is all he's been able to think about for a long time now.
Bar lady, Tracy-lea, is watching the door like a hawk, even though she won't admit that she's hoping a certain shifter will walk through it. Even if Jasper is in town, it doesn't mean she can actually do anything with him. It's not like she can take him home and have her way with him. One night with a shifter would be amazing. Just one night with Jasper would be beyond her wildest dreams. Best she get back to work and stop thinking about it, because it's never going to happen.
Wild Magic by Alisa Woods
He's training an elite team of wolves. She's a witch with a dangerous secret. The magic they make together is WILD.
Daniel Wilding's family is being meticulously stalked by the Wolf Hunter. Daniel takes a leave from the Army to fight back by assembling a team of white wolves—shifters who can tap into an ancient witchy magic. The only problem? The sexy witch brought in to train them is stirring up the wild magic inside him—magic he'd rather keep buried. But when he finds the hot little witch has a secret of her own, his wolf won't rest until he uncovers it… only what he finds might let loose the wildest magic of all.
WILD MAGIC is a complete "after story" novella, a follow-on to the Wilding Pack Wolves series.
Tiger's Summer Bride by Lola Kidd
Curvy girl Blair is looking for love in all the wrong places. She's been on hundreds of dates but still can't seem to find the One. Lately, the dating scene has been getting worse. She can't seem to find one nice guy to date. Desperate, she signs up with LK Brides hoping to be matched eventually.
Tiger shifter Nate has been signed up with LK Brides for over a year with no luck. Just when he's run out of all hope, he gets a match. He's surprised to find that it's his co-worker Blair. He's had a crush on her for years but was too shy to ask her out.
The curvy office manager swiftly kills any hope for romance the tiger shifter had. He's a friend and nothing more. Will the timid tiger be able to change Blair's mind and win her over? Find out in the latest addition to the Holiday Mail-Order Mates series.
Hell on Wheels Night Guardians #1 by Michele Bardsley
When her search for the demonic entity that murdered her family lands her in the tiny desolate town of Sunshine, Texas, supernatural bounty hunter and dark witch Nyx finds all kinds of trouble. A mysterious temple. Escapees from a cult. Minions from Hell. An ancient prophecy. The hot guy who calls himself Wrath.
You know. The usual.
To save a young boy kidnapped by the same the evil force that ruined her life, Nyx follows Wrath into the realm of Hell. With the help of her pit bull Max, some demon friends, and oh yeah, her scary new powers, Nyx prepares to rescue the child and vanquish the creature.
Yet, as she gets closer to the showdown—and to Wrath—Nyx realizes that for the first time she desires more than vengeance. But just as she finds everything she's ever wanted, she discovers her true purpose. To save the earth, to save the humans, and to save the man she loves, Nyx must sacrifice everything—including herself.
***This limited edition collection is no longer available.***