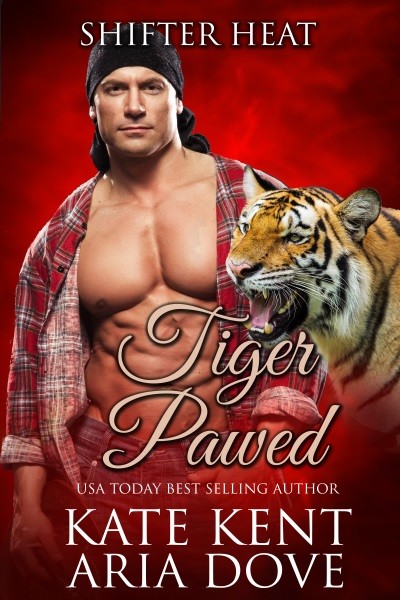 TIGER PAWED
Tiger Pawed – STANDALONE Hot n' Steamy Paranormal Shape Shifter Romance
Are you ready to SWEAT? Pretty BBW meets Gym Hottie for one on one personal training!
Sweaty, hot, and begging for more—that's how Karen feels after meeting hunky tiger shifter, Mick—literally!
Karen signed up for training at LA's hottest gym-'7 Days Fitness' to get a curvalicious booty on her voluptuous frame—not to meet a boyfriend. She's too busy for that thanks to a more than hectic work schedule with a crazy Hollywood tyrant for a boss.
But there's something about her new personal trainer, Mick, that Karen just can't get out of her head. She can sense his intense, animal heat, and feels like she has an unusual, strong connection with him right away. But does he feel the same? And what happens when Karen's movie star crush asks her out on a date?
Watch how Karen and Mick's story unfolds as all the hot sex, passionate romance, and drama ensues. The heat level is off the charts!
Tiger Pawed is a BBW Paranormal Shape Shifter Romance. This is a standalone novella and the first story in the Shifter Heat series. These paranormal romances can be read in any order. This novel includes steamy scenes, spicy language, and sweaty hot content-you'll be drippin' when you read it. If you like the sound of that, then this book is for you!
On sale now at Amazon US. Get your copy here: Amazon US: Tiger Pawed (Shifter Heat) and Amazon UK: Tiger Pawed (Shifter Heat)
The Shifter Heat series includes:
Tiger Pawed:Amazon US: Tiger Pawed and Amazon UK: Tiger Pawed
Bear Handled::Amazon US: Bear Handled and Amazon UK: Bear Handled
Panther Prized (coming soon)
Lion Tamed (coming soon)
Want to be notified when my new books are released, get info on contests, giveaways and more?
Sign up for my newsletter here: KATE KENT NEWSLETTER/
See a complete list of my books here: KATE KENT BOOKLIST