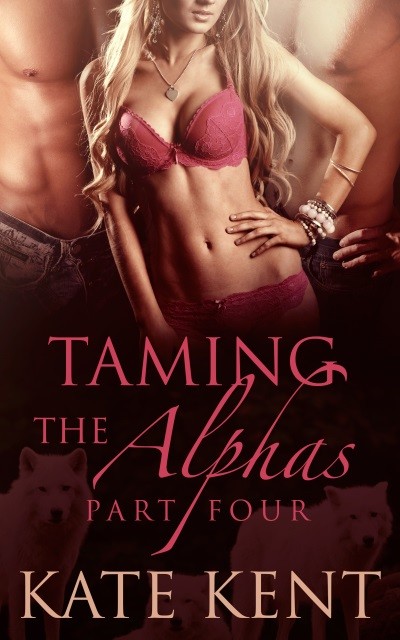 Taming the Alphas: Part Four
Taming the Alphas: Complete Edition is now available. It is free with Kindle Unlimited
On sale now at Amazon US. Get your copy here: Taming the Alphas: Complete Edition and Amazon UK: Taming the Alphas: Complete Edition UK
Taming the Alphas: Part Four
Part Four the Exciting Conclusion of the Taming the Alpha Serial
Two hunky Alphas plus one hot werewoman equal lots of smoking hot menage romance!
Dave and Todd love pleasing sexy Beverly Collingswood in every way possible. The sexy trio are trying hard to assimilate as werewolves into society and develop their relationship as a loving threesome but other forces are fighting against them.
The triad meets with a multi-millionaire who claims to be interested in helping them. But does he really want to help them or does he have his own personal agenda in mind? How steamy do things get when Dave, Todd and Bev decide to take the heat to the next level?
Taming the Alphas: Part Four is a 17,000 word Paranormal Werewolf Shifter Romance. It is the fourth book and the conclusion to the Taming the Alphas serial sharing Beverly Collingswood's experiences as a werewoman with the two powerful Alphas who crave her. It is part of the Lycan Lovers series. The story includes strong sexual themes and language
On sale now at Amazon US. Get your copy here: Taming the Alphas: Part Four and Amazon UK: Taming the Alphas: Part Four(UK)