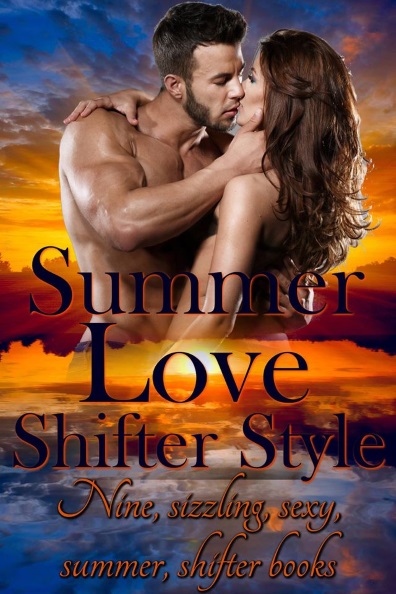 Summer Love Shifter Style
Mmmm ready for a delicious summer. Enjoy nine heart warming romances from some of your favorite authors in Summer Love Shifter Style!
***This limited edition collection is no longer available.***
Summer Love Shifter Style is a limited edition boxed set from some of your favorite authors including me 🙂
Authors in this set are:
V. Vaughn
Harmony Raines
Kate Kent
Bella Love-Wins
C.E. Black
Michele Bardsley
Becca Fanning
Scarlett Grove
Ariana Hawkes
Brindle – V. Vaughn
Becoming a werewolf the night of senior prom isn't all it's cracked up to be. When Katie realizes what's she done she runs. But mating season has arrived, and Brindle is the only one that can satisfy the needs of her fever, and her heart.
Bad Boy Fire Bear – Bella Love-Wins
Nevada firefighter bear shifter, Jax Carson never believed settling down was in the cards for him. That was right up until his bear caught sight of the new waitress, Joleen Emery, and roared with a lust to claim her.
FURever: BBW Paranormal Shapeshifter Romance – Kate Kent
Are you ready to have your toes curled? One curvy, sexy woman plus two hunky Alpha wolf shifters = scorching, hot menage romance!
Shifted Undercover – C.E. Black
Secret agendas, and hidden plans, begin to unravel after chaos erupts on a plane. Nikki isn't willing to lose the love she's found in Adam over a flight plan gone wrong, and Adam is determined to risk it all for the love of his woman; revealing the beast that resides within.
The Werewolf's Bride – Michele Bardsley
To honor her town's 150-year-old pact with the werewolves, Arabelle Winton dutifully marries Shadow Pack alpha Greyson Burke. Their marriage of convenience might well turn into true love. But only if the pack's most dangerous enemy doesn't destroy them first.

Chief Bear – Scarlett Grove
On Fate Mountain, Levi Blackthorn is alpha of the search-and-rescue crew the Rescue Bears. Juliet Hernandez is a sassy, sweet woman who's been unlucky in love. Can Juliet let go of her past and trust the wild heart of her shifter mate?
Redeem the Wolf – Harmony Raines
Kurt has made mistakes, big mistakes, and he paid the price, but one woman saved him, coaxing him back from the brink. Then she left, before he could thank her, all he has to hold onto, is the memory of her face, a face he paints over and over again. Now she needs his help, can Kurt save her, and somehow redeem his wolf?
Shiftr: Swipe Left for Love (Melissa) – Ariana Hawkes
When Melissa Ericson has a panic attack as her best friend is giving birth, sexy shifter Doctor Harley is on hand to calm her down. But there's something about him that keeps tugging at her mind, and suddenly she's drawn back into a place she never wanted to think about again. The past is so confusing and painful, but will the smoking-hot werewolf prove to be her destroyer or her savior?
Dietrich (Bear Dating Agency I) – Becca Fanning
A family of single Bear Shifter men, a secluded state park and a matronly grandmother who is sick of not having any grandchildren. Come along for the lip-biting, hair-pulling, sweaty-riding Bear Dating Agency series!
***This limited edition collection is no longer available.***