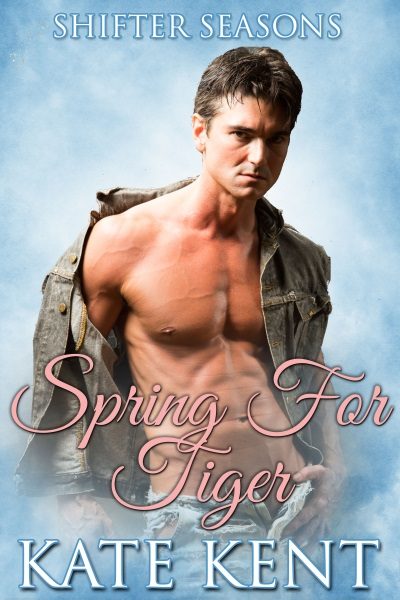 Spring For Tiger is the second book in my Shifter Seasons Collection.The book was released in a limited special edition collection,Total Shift of the Heart. It is now available as a standalone book.
Grab your copy here! Spring for Tiger US or Spring for Tiger UK
Spring For Tiger – STANDALONE Paranormal Romance (Shifter Seasons)
1 Curvy Woman Hoping for Love + 1 Hunky Tiger Shifter Ready to Pounce = A Scorchin' Red Hot Romance!
Rich and spoiled BBW Janet Sayer is fed up with men who want her just for her bank account. Her broke friend Susie proposes a simple solution. If Janet trades her lavish lifestyle with Susie's for just a few months, she's sure to meet guys who are interested in her for the right reasons. Janet wants a loving man, but is she willing to sacrifice her usual comforts for a shot at romance?
Things get heated when Janet meets sexy tiger shifter Zeke Marshall. He's ready to find his soulmate and when the amber eyed hunk sees Janet he's ready to pounce. But Zeke values truth and honesty above all else and Janet is not exactly showing her true colors.
The two are crazy about each other but will Janet's secret keep them apart?
Spring For Tiger is a BBW Paranormal Shapeshifter Seasonal Romance. This is a standalone novella and the second story in the Shifter Seasons series. These paranormal romances can be read in any order. The story includes strong sexual themes and language.
The Shifter Seasons Series includes:
Beary Merry Winter. Get your copy here: Amazon US: Beary Merry Winter and Amazon UK: Beary Merry Winter
Spring For Tiger. Get your copy here: Amazon US: Spring For Tiger and Amazon UK: Spring For Tiger
Summer Loving Lion: Get your copy here: Amazon US Summer Loving Lion and Amazon UK: Summer Loving Lion
Foxy in Fall: Get your copy here: Amazon US Foxy in Fall . and Amazon UK: Foxy in Fall
See a complete list of my books here: KATE KENT BOOKLIST
Want to be notified when my new books are released, get info on contests, giveaways and more?
Sign up for my newsletter here: KATE KENT NEWSLETTER/