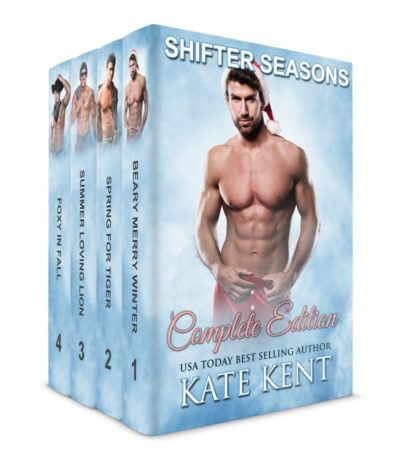 Shifter Seasons: Complete Edition
On sale now at Amazon. Get your copy here Amazon US: Shifter Seasons: Complete Edition and Amazon UK: Shifter Seasons: Complete Edition
Hot and Steamy Shifter Love for All Seasons!
Winter, Spring, Summer, Fall – it's always time for love!
Shifter Seasons: Complete Edition includes:
Beary Merry Winter 1 Sexy Bear Shifter + 1 Shy BBW = A Growling Hot Time!
Hot 'n hunky playboy Zane Harlan's animal is raging when he runs into curvy Anne Williamson at an ugly Christmas sweater party. Zane sees Anne and knows exactly what he wants. But quiet and conservative Anne has an agenda of her own. She wants a baby and she is willing to do whatever it takes to get one. Mix lust and desire with a little magic potion and you have a recipe for hot loving. The chemistry between the pair is off the charts but can the two reconcile their differences?
Spring for Tiger 1 Curvy Woman Hoping for Love + 1 Hunky Tiger Shifter Ready to Pounce = A Scorchin' Red Hot Romance!
Rich and spoiled BBW Janet Sayer is fed up with men who want her just for her bank account. Her broke friend Susie proposes a simple solution. If Janet trades her lavish lifestyle with Susie's for just a few months, she's sure to meet guys who are interested in her for the right reasons. Janet wants a loving man, but is she willing to sacrifice her usual comforts for a shot at romance?
Summer Loving Lion Baby it's Hot Outside and In! Hot, Rugged Lion Shifter + Pretty BBW = A Roaring Sexy Romance!
Samantha Courtland has her hands full with two energetic kids and a failing jewelry store. When her business is robbed and a competitor sets up shop next door, Sam is not sure how she'll make ends meet. Hunky Harve Adamson loves to win and Sam is the prize! When he sees her he knows she's the one for him. Though love is the last thing on Sam's mind, she can't resist the powerful lion shifter. But when she discovers the truth about Harve she begins to have second thoughts. Will Sam and Harve be able to work out their differences?
Foxy in Fall 1 Foxy Shifter Ready to Woo + 1 Curvy Girl Ready for Love = A 'Furry' Hot Romance!
Bubbly Susie Cyrus is ready for romance. And she's excited to go on the vacation of a lifetime with her new boyfriend. But when she makes an unplanned visit to his office she gets a cruel surprise. Fox shifter Joel Rigby knows that Susie is his fated mate. But so far his feelings have not been returned. Can the hunky officer turn things around?
Shifter Seasons: Complete Edition includes all four BBW paranormal shifter romances and all of the covers in the series. Relish the seasons as sassy curvy gals and hunky shifters find love and happiness!
On sale now at Amazon. Get your copy here Amazon US: Shifter Seasons: Complete Edition and Amazon UK: Shifter Seasons: Complete Edition