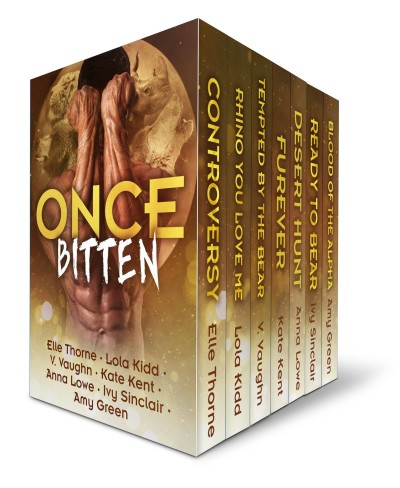 Once Bitten: Paranormal BBW Shifter Romance – Multi-Author Box Set
***This limited edition collection is no longer available.***
Get Bitten over and over! I have teamed up with some of your favorite authors to share our first books in a series for only .99cents in a limited edition: Once Bitten: Paranormal BBW Shifter Romance – Werebear, Werewolf, Weretiger, Wererhino!
Sexy bears, wolves, a tiger and a rhino heat up the pages in this collection of sizzling shifter romance stories of love. Take a walk on the wild side with hunky alpha heroes who will stop at nothing to win over their fated mates. All stories are part of a series or serial from USA Today and National Bestselling authors.
Tempted by the Bear – Part 1 – Violet Vaughn
Tristan De Rozier's so hot he might be the reason his glacier's melting under his polar bear feet. But he turns mate attraction into a curse when his very presence makes Annie Le Roux's blood boil in anger. He's come to Maine to steal a kingdom, but discovering Annie is his true mate complicates everything.
Ready to Bear – A Greyelf Grizzlies/Urban Dwellers Crossover – Ivy Sinclair
Shifter Sheriff Billy Miller wasn't sure what to expect when he landed in Copper City. Tracking a suspect from one of his cold cases to arrest him, he certainly didn't anticipate meeting his mate in the process. But their romance is threatened when someone sets their sights on taking Billy out of the picture for good by forcing secrets from his past out in the open. Secrets that Thea has to decide if she can accept, if Billy makes it through the investigation alive.
FURever – Kate Kent
Bitten and dumped, BBW Alicia Morgan has experienced a lot of heart break in her life. She longs to find her forever man but she's afraid to take another chance on love. When temptation comes calling in the form of two hunky alphas she has to fight off her lustful feelings.
While Alicia is struggling with her desires for the powerful Alpha shapeshifters, she discovers something is not right at the nursing home her beloved Nana lives at. Can she find her forever man and protect the elderly woman she loves?
Blood of the Alpha – Amy Green
Carter Tripp is a lone wolf. No family, no lovers, no connections — that's how he's always lived. He works night shifts as a security guard and turns into a monster under the full moon. No harm, no foul. Until trouble lands on his doorstep, and he suddenly has the urge to protect the woman who obsesses him — the woman who could be his long-awaited mate.
Rebecca Masters never expected the biggest, most dangerous man she's ever seen in her ER. But she can't get him out of her mind, and her nice, tidy life is about to get messy. Especially when she's targeted by criminals, and the only man who can protect her is the shifter who is half beast…

Controversy – Elle Thorne
White tiger shifter Vax Tiero runs a nightclub that doubles as a haven for shifters. He's got one thing on his mind: Callie Rivera. But he's got three problems: Keeping his identity a secret, keeping another tigress from killing Callie, and hiding the fact he's violating Shifter Council Code by wanting to take a human as a mate.
What could make things worse? His equally sexy half-brother Rafe's visiting from Europe. And Rafe's got his eye on Callie.
Can a fella get a break?
Desert Hunt – Anna Lowe
Rae has a secret — one she can't allow any wolf pack to discover. But with an old enemy hot on her heels, she has no option but to trust Zack, the man from the wrong side of the tracks. Taking off on the back of Zack's Harley seems like good idea at first, but when she lowers her defenses for the captivating coyote shifter, she might just be risking it all.

Rhino You Love Me – Lola Kidd
Rhino shifter Chet Gallow is going to have to pull out all the stops to convince curvy gal Addison Little that he's the one for her. Time is running out since she's only on Safari Island for a short vacation. Will Chet be able to convince her that she's his mate before she leaves the island for good? Find out in the first book of the Safari Shifters series!
***This limited edition collection is no longer available.***