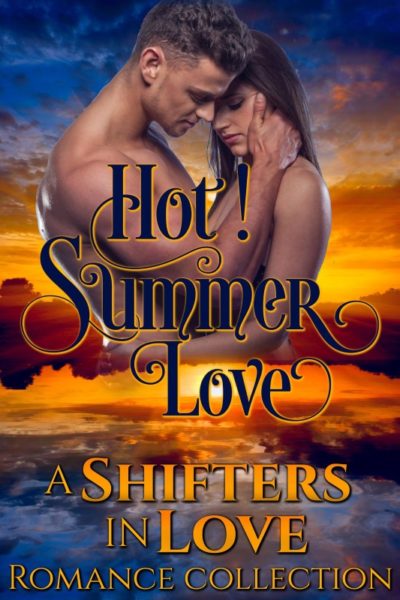 HEAT UP YOUR SUMMER!
***This limited edition collection is no longer available.***
****THIS IS A LIMITED EDITION BOXED SET****
On Sale for a LIMITED TIME! A Kindle Bursting Collection of HOT Shifter Books From Nine of Your Favorite Paranormal Romance Authors!
Summer's about to get scorching!
Shifters In Love brings you another great collection of full-length shifter romance stories from USA Today and NYT bestselling authors, Hot Summer Love.
Scorching hot passion jumps from the pages in these shifter stories featuring lions, bears, wolves, panthers and cougars. Fall in love with alpha men that strong heroines can't wait to tame.
Living a Lion – Harmony Raines
Kane has been lied to his whole life, he thought he knew his place in the world, rich, eligible, he had his whole future mapped out, then he finds out he is one of them – a shifter. Amara has the answers, beautiful, curvy, dangerous. She will turn his world upside down, and also make it whole, if he can only find the strength to let go of his past and embrace his future.
Called by the Bear Book 1 – V. Vaughn
When Carly is called by her dreams she answers. Join four women on the adventure of a lifetime as they find true mate love in a world of lies, deception and werebear.

Kate Kent – Taming the Alphas Complete Edition
Two hunky, hungry Alphas + one delicious werewoman turn up the heat in this sizzling hot menage romance! Are two Alphas better than one? Beverly Collingswood experiences an emotional roller coaster as she faces the hungry ache of the two hot blooded weremen who lust after her. And if that was not enough, evil forces lurk with nasty intentions. What's a werewoman to do?
Becca Fanning – Bearly Saints Complete Edition
Four bear brothers, just trying to live regular lives and play music for their fans. But life isn't that simple, and even in the golden city of Nashville, these men will have their courage tested and their hearts set aflame.
Copper King – Viv Arend
New York Times and USA Today bestselling author Vivian Arend brings you COPPER KING, a light-hearted sexy escape! Sweet, shy Lillie is in Sin City looking for a final fling, and billionaire grizzly shifter Jim Halcyon is more than pleased to oblige her every wish. Only when Lady Luck gets involved, lust and ambition clash. (Takhini Shifters #1)
Scarlett Grove – Commander Bear
Can a cop and a jewel thief find love on Faith Mountain? Jaguar shifter Zoe, has always known trouble. Now she's in debt to the mob. The last thing she expects is Corey's matchmaking program pairs her up with a hunky chief of police!
Bella Love-Wins – Alpha Fire Bear
Brock Moore has enough on his hands as alpha bear shifter and Lieutenant of his firefighter rescue team, handling a serious case of dangerous fires around the Reno-Sparks, Nevada area. Easy on the eye, strong, protective, yet broody, Brock wants to take the next step with Sky, the shapely, captivating and feisty bombshell of a waitress at the Steak and Ale Saloon. Sky could be his one true mate as they fit together like bears to honey, but how did this love connection turn into a string of booty calls with no sign of commitment at all? Somehow, all those hurdles start to seem small when the competition comes sniffing around Sky.
Michele Bardsley – Two Alphas and a Lady
Jack and Grantham are co-alphas of the Earth Pack, and they're on the hunt for a suitable mate. Curvy Roxi is on the run from her mother, who happens to be the alpha of the Blood Pack. Can they work together to fulfil their destiny?
Shifted Temptations – C. E. Black
When Carly is called by her dreams she answers. Join four women on the adventure of a lifetime as they find true mate love in a world of lies, deception and werebear.
***This limited edition collection is no longer available.***