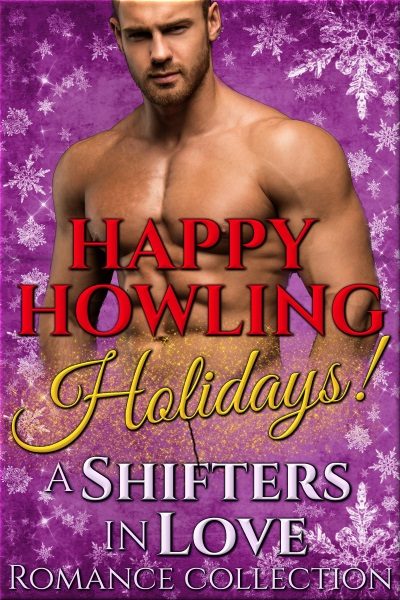 ****LIMITED EDITION BOXED SET****
***This limited edition collection is no longer available.***
HAPPY HOWLING HOLIDAYS!
Grab your copy here: Amazon US: Happy Howling Holidays Amazon UK: Happy Howling Holidays
This collection will heat up your winter! Only .99cents or free with Kindle Unlimited!
Bearly Christmas – Becca Fanning
Fresh out of med school, Bear Shifter Tye expected to face adversity in joining a top hospital residency program. But feisty little Melanie might be more competition than he can handle, and a terrible rumor about his past catches up with him. Will there be a Shifter Christmas Miracle?
Bear in Furry Armor – Emma Alisyn
A baker yearning for her Bear in furry armor. A male ready to Claim his mate. The witch standing between their mate bond. Curvy hedgewitch Amberely has been Jayson's secret crush since high school. When Amberely is placed in sudden danger, Jayson doesn't hesitate.She is his have, to hold, and to protect. And no matter what spells her mother casts against him, he's determined to finally Claim his mate.
A Roaring Fire, A Zodiac Dragon Guardian Novella – Kim Faulks
Terror and heartache have descended on the Guardians. Victor,Dragon-born in the sign of Aquarius, feels this pain deeper than the frigid December winds. His brother Zadoc has returned bloodied, beaten and broken, and Victor is helpless to save him. Until he finds four female shifters hiding handmade dolls and carved wooden wolves, and he realizes with blinding clarity that he's the one who's been given a gift. An opportunity for his family to heal, an opportunity for his family to love–the gift of Christmas.

Beary Merry Winter – Kate Kent 1 Sexy Bear Shifter + 1 Shy BBW = A Growling Hot Time!
Hot 'n hunky playboy Zane Harlan's animal is raging when he runs into curvy Anne Williamson at an ugly Christmas sweater party. Zane sees Anne and knows exactly what he wants. But quiet and conservative Anne has an agenda of her own. She wants a baby and she is willing to do whatever it takes to get one. Mix lust and desire with a little magic potion and you have a recipe for hot loving.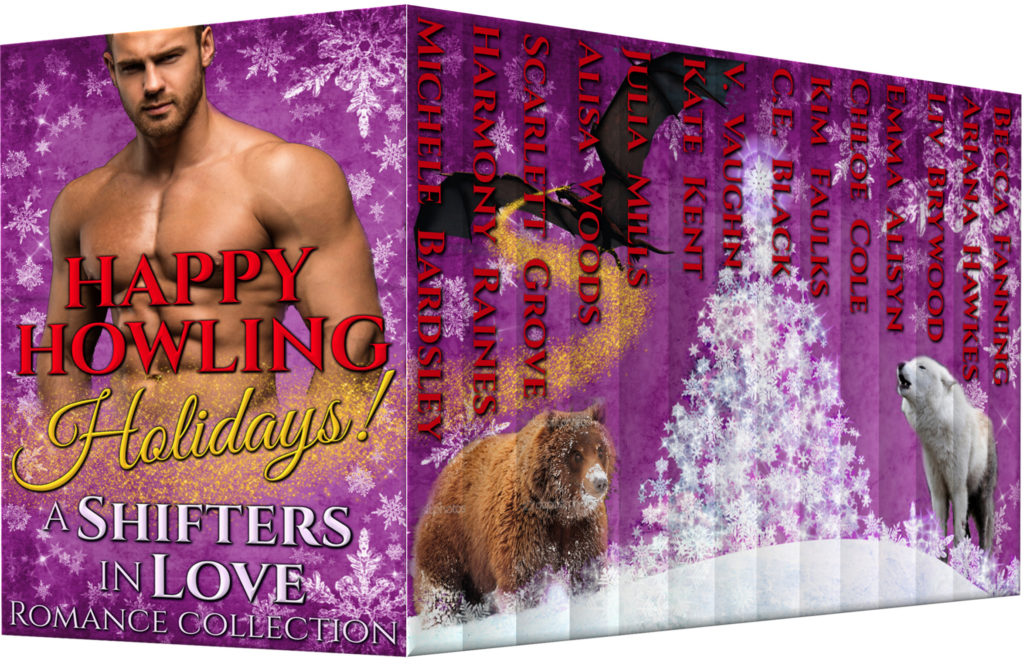 Her Dragon's No Angel – Julia Mills Take one snowbound dragon, combine with one Christmas Angel, throw in a healthy dose of an attraction only the Universe could have conjured and top with the largest blizzard in a hundred years. Now sit back and enjoy the show! Fate Will Not Be Denied but Heaven's Got A Plan of Its Own!

The Cowbear's Christmas Shotgun Wedding – Liv Brywood
When Kate returns to West Yellowstone to settle her father's estate, she runs into the last person she'd ever want to see again: Logan Grant. But Logan's bear has other plans. He only has one week to steal her heart, but with the magic of Christmas on his side, he's ready to do what ever it takes to claim his fated mate.
A Dragon's Gift – C. E. Black
Hannah's deepest desire is to spend Christmas in the arms of the man she loves, but her boss, Kye Sorensen, has kept her at arm's length for years. Until, one mistake brings her where he least expects to find her, and she's brought her own secret. A gift neither thought existed.
Santa Paws – Harmony Raines
All Dermot wants for Christmas is a mate. Because a mate will lead to cubs, and a family to spend the holidays with. But since Dermot, a paramedic, hasn't met his special lady yet, he agrees, as he always does, to work Christmas so others can enjoy time with their families.
However, fate is about to step in and give him just what he needs.
Cowboy Bear's Christmas Surprise – ScarlettGrove
His mate has collided with his life — but her past is a blank and her future is in danger. Can he save her?
Connor Milton has given up looking for his mate after years of searching. But when a woman crashes her car into a tree on his ranch not long before Christmas, he's certain he'sfinally found her. There's one big problem–she doesn't know who she is.
Bear My Perfect Gift – Ariana Hawkes
Bear-shifter Caleb can't stand to have another lonely Christmas and he's leaving his home behind to look for love. Curvy Paige is in the middle of a journey with her abusive werewolf boyfriend. Fate brings them together and their attraction is magnetic, but can he protect her from the dangerous alpha wolf and give her the happy Christmas she deserves?
Prey – Chloe Cole
When a gorgeous stranger rescues her from a vicious wolf attack,curvy nature photographer Amalie Baptista can't seem to fight the attraction to her savior. What she doesn't know is that giving in to him could mean giving up life as she knows it…

Bear Winter – Michele Bardsley
After a previous client of Pearson Security is nearly killed and her child kidnapped, bear shifter Gabe Pearson has no choice but to ask psychic and ex-fiance Hope Wheeler for help. Hope knows she can never be with the man who holds her heart, but she can't say no to his request to rescue a kid from his vicious, abusive father. Together, they will fight through vicious snowstorms, murderous shifters, and grievous emotional wounds to save the life of a little boy–and each other.
A True Alpha Christmas – Alisa Woods
Mia is a shifter who's long hidden her identity. Her heart belongs to sexy alpha Lucas, and their mating has bonded them for life, but there's no wedding ring to show for it.With Christmas looming, her mother wants to meet her live-in lover, and Mia fears there will be nothing but broken hearts in the end.

Andre – V. Vaughn
Nessa has no intention of falling for a broody bass player. But when she and Andre sing, maybe it's the approaching holiday or maybe it really is the song of her heart. There's just one problem – he's not human.
***This limited edition collection is no longer available.***