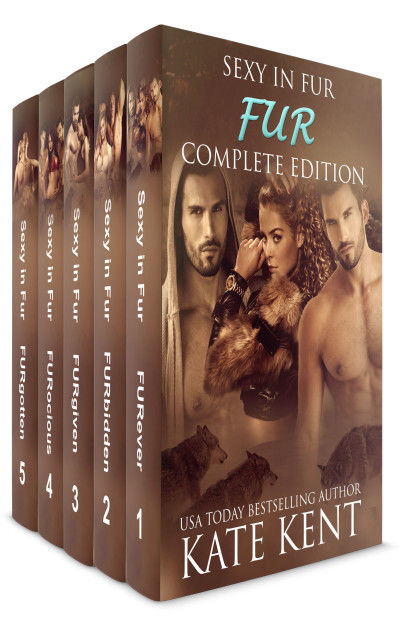 FUR: Complete Edition includes all 5 sizzling hot stories from the Sexy in Fur series!
Get Ready to Have Your Toes Curled!
FREE with Kindle Unlimited!
On sale now at Amazon US. Get your copy here: FUR:Complete Edition and Amazon UK: FUR:Complete Edition UK
FUR: Complete Edition includes all 5 Sexy in Fur stories!
FURever
(Menage) Are you ready for scorching hot romance x 2? One curvy, sexy woman plus two handsome Alpha wolf shifters = scorching, hot menage romance.
Bitten and dumped, BBW Alicia Morgan has experienced a lot of heartbreak in her life. She longs to find her forever man but she's afraid to take another chance on love. When temptation comes calling in the form of two hunky alphas she has to fight off her lustful feelings.
FURbidden
He's 22 hot, sexy and fully loaded. She's 32, curvy, divorced and tempted! But he's her best friend's little bro and forbidden!
BBW wolf shifter Evie Allen has just gone thru a messy divorce and is looking for a "sensible guy"to love. But the young, hunky bear shifter Chad has his own passionate plans in mind for her.
FURgiven
He's a rich, hunky bear shifter. She's a beautiful, curvy mom of two. And when they meet – the heat level sizzles off the charts!
BBW Stacy Winston is struggling to support her 14 year old twins. When the opportunity to enter a marriage lottery comes up, the gorgeous bear shifter thinks it may be the solution to her problems.
FURocious
(Menage) Oohlala! Angel aka Angie Wade is a sweet slice of heaven to hunky bear shifters Kyle and Monty in this blazing hot menage!
BBW auction reseller Angel Wade is fed up with Kyle Collin's roaming eyes. The delicious 'Bite Me Bar' bartender is just too hot for his own good. When her handsome new online friend Monty Lawrence comes to town to meet her, she is ready and open to love.
FURgotten
1 Hot Rich Dude + 1 Pretty BBW = Nail Biting Romance!
Chloe Roberts has a secret. A big one…she's Chloe Roberts not her twin sister Courtney Roberts. BBW Bite Me Bar bartender Chloe Roberts is having a normal day shopping at the mall when the hottest guy on the planet, wolf shifter Drake Roma, grabs her sweet body from behind.
FUR: Complete Edition features all 5 Sexy in Fur spicy standalone BBW paranormal romances. The collection includes lots of sexy scenes and language. Enjoy!
On sale now at Amazon US. Get your copy here: FUR:Complete Edition and Amazon UK: FUR:Complete Edition UK
WANT MORE STEAMY STORIES? SEE MY COMPLETE BOOKLIST HERE: KATE KENT BOOKLIST
Sign up for the newsletter to be notified of new releases in the series: Kate Kent Newsletter>